Analyze, Maintain,
Optimally Charge
…and Generate Reports
Batteries are not
so mysterious after all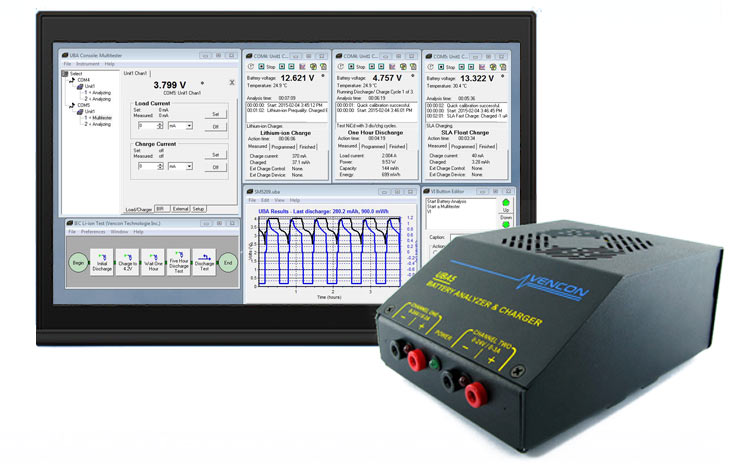 Check Capacity or Battery Life
Run one test cycle to check capacity, or thousands to test battery life.
All Battery Chemistries
Works with Lithium Ion, Lithium Polymer, Lithium Iron Phosphate, NiCd, NiMH, SLA, Lead Acid and Primary Batteries.
Any Test Interval
Charge and load intervals can be as small as one second or longer than an hour (or program load and charge pulses down to the millisecond with the Microsequencer)
Any Battery Test you can Dream Up
Battery Analysis Routine (BAR) Designer
Create advanced battery analysis routines with a drag-and-drop interface using charge and discharge modules, loops and subroutines. Use one of the the analysis routines that come with your UBA as a starting point or build your own from scratch.
The Battery Analysis Routine can be as simple as this lithium ion Discharge and Charge routine: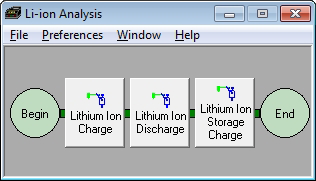 …Or as complicated as this lithium ion camera load simulation routine that simulates the load that a camera battery will experience taking 200 pictures and then being recharged. This charge/discharge cycle is repeated until the battery can no longer provide the power for the 200 pictures.
This routine consists of this main routine: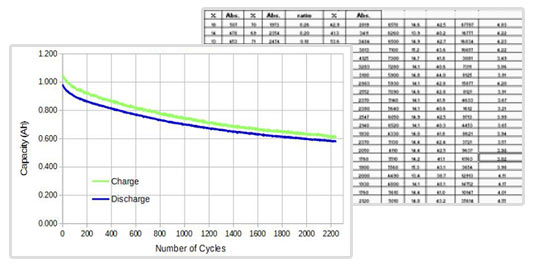 Export Results to csv
All battery voltages, charge and discharge currents and temperature along with the test results (capacity and energy) are stored in a standard csv compatible text file so you can easily import the results to a spreadsheet, or print them to have a dated record of all your battery tests and track batteries over time.
Expressions
You can set the analysis to dynamically change its parameters based on real time test results.
Multitester
The Multitester can apply a load or charge current,  it can also do a quick test to measures battery internal resistance and read any connected temperature probes.
Charging Options
The UBA5's fully programmable constant current charging (for NiMH/NiCd) and constant voltage charging (for Li-ion/SLA) makes it a very versatile charger, able to handle all of today's chemistries, and tomorrow's.
Re/condition  NiCd and NiMH
There are still plenty of NiCds and NiMH batteries out there.  The UBA5 can condition them to improve performance, and recondition those that can't hold a charge to bring them back to life.
Prepare Lithium-Ion for Shipping or Storage
It's important that lithium-ion batteries be set to a specific state of charge (SOC) before shipping for safety or storage  to preserve capacity.  It's simple to put the battery to a desired SOC with the UBA5.
All Software is included and updates are free for life.
Two Channels, Limitless Combinations
The UBA5 has two channels that can each analyze a battery or can be combined with each other, or other UBA5s, for unlimited charge and discharge current.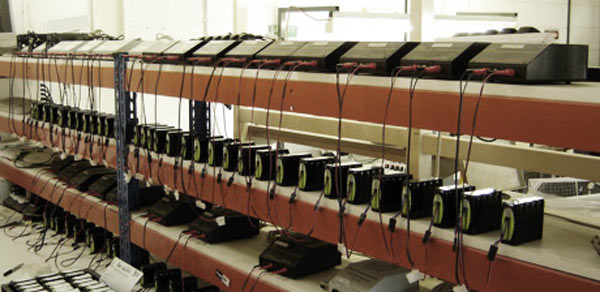 High Volume Battery Testing and Charging
You can easily network together UBA5s to simultaneously control over 100 UBA5s from one PC.
Battery Temperature Sensors
With temperature probes, you'll be able to view and record the battery temperature during a battery analysis. Afterward you can load the results into a spreadsheet to plot the temperature curve along with battery voltage and current. You can also set the software to stop battery charging when the battery reaches a certain temperature or rate of temperature rise (dT/dt).
Use our optional Battery Temperature Probes, use your own sensors, or use your battery's built-in sensor.
Unlimited Technical Support
We will take care of you. If you need help setting up your tests, you can get support directly from Vencon president Marc Venis, a professional engineer with a Masters degree in Electrical Engineering and over 30 years of experience in the battery industry.
What Our Customers Are Saying:
"Allowed us to uncover battery issues that we otherwise would not have been aware of prior to product launch.
The software is intuitive, and when communicating with Vencon regarding unique and advanced applications, their technical support has been outstanding."
Ted Dekker
X-rite Inc.
"Our battery business is booming and we're using the 20 UBAs we bought from you at 100% duty cycle, and they are holding up and performing beautifully. Whenever somebody asks me for advice on buying a battery analyzer, I always recommend your unit over the Cadex C7000 series every time due to the increased flexibility and overall ease of use."
Dale Curtis, Manager
Quality Assurance Dept.
Lenmar Enterprises, Inc., U.S.A.
"UBA5 from Vencon is a technological masterpiece of art. With it's extensive options, we can safely conclude to say that you would need not any other charger or analyzer ever. You can dream a custom test with multiple options and use Battery Analysis Routine (BAR) Designer to build and implement it. The fun really begins at the 'BAR'…"
"We have one of your UBA analyzers and we know that it has paid for itself many times over and we have no hesitation in recommending it to other companies like ourselves."
Douglas Fairbank
Service Technician
Hasselblad UK
"We recommend the UBA5 for its versatility and for Vencon's excellent technical support."
Diego Quintero
Product Developer Engineer
Dr Ten BV, Netherlands

Over 30 Years of Battery Analyzers
In 1992, Vencon released the UBAI and UBAII, the world's first PC controlled battery analyzer. We kept improving it with the UBAIII, UBA4 and finally the UBA5 our current battery analyzer.
Trusted By:
Tesla Motors, Microsoft, Google, Siemans, NASA, Intel, Energizer, Sony, University of British Columbia, University of Florida, Electrolux, General Dynamics, Hasselblad, Husqvarna, ­Lockheed Martin, Medtronics, Philips, Western Digital Corp
Money Back Guarantee
If you need to test batteries, we know that you will be more than happy with the UBA5. If for any reason you are not satisfied, return it within 30 days for a full refund.